About Localwork.com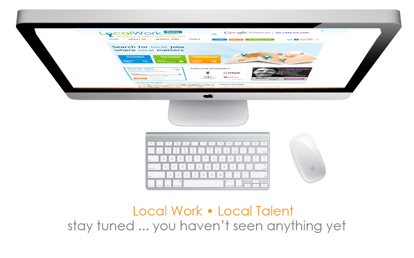 FACT SHEET
What
LocalWork.com is a new job site and is the brainchild of Ryan Naylor. Naylor is also the CEO and owner of Local Work Marketing, an internet marketing firm, which is also based and grown in Phoenix, AZ. Naylor's extensive experience with local businesses was the starting point and foundation for the concept. The ultimate goal: putting Arizona back to work first and then branching out to other communities where unemployment rates are the highest.
Below are answers to some of the most common questions about LocalWork.com
Why
Localwork.com has advanced features set for employees and employers alike. Some of the distinct features include:
First-ever, Video resume profiles
A resume system featuring a sophisticated resume builder and resume sharing tool created to better position resumes and provide an easier, more effective way to share professional information
A local map search
Custom alert notifications
Cloud applicant management system
Pre-funded job postings
Resume rating system
Standard features include management tools for job seekers to track and manage jobs applied to. Simplicity, multiple job categories, notification alerts and custom URLs for resumes are all standard for job seekers.
When
LocalWork.com released its Beta version in December 2010. The site launched on February 3, 2012 in Arizona.
Cost
$50 per job post for employers. Free for job seekers.
Why did you start this new job site?
As an employer myself, I found it frustrating to find employees in an efficient affordable manner. While going through all the hardships of starting a company in this economy, the last thing you want to do is spend your entire budget on searching for employees. It should be easier. So I founded LocalWork.com as an affordable way for businesses to find quality employees.
Is LocalWork.com simply a Phoenix initiative?
Right now our focus is getting the Phoenix metro area unemployment number as low as possible. We want to help local Phoenicians find jobs in this economy. We do have eventual plans for expansion.
What are the current unemployment rates in Arizona?
The numbers are difficult to read. We are seeing reports that the unemployment rate is at 8.5 percent but we need to pay more attention to the jobless claims. This number is much higher because these are people who have been out of work longer than the unemployment benefit package will cover or they have given up on looking for work due to frustration. These are talented people. They have the experience and knowledge, but just do not have the resources available to find work. Employers, who would otherwise hire them, are not posting available jobs because it's too expensive on the existing sites. Employers also believe it creates a negative image to their brand to post jobs website that also sell used furniture.
What are some features on LocalWork.com that differentiate you from the rest of the employment sites in the area?
There are some popular classified websites that post jobs every day. What is missing is the professional appearance of a true recruiting website focused on helping land jobs to local talent. These cheap classified websites lack resume posting abilities, custom notifications and job availability updates. We know it is important to be in the top 10 percent of the resumes a recruiter sees. We created an easier function that notifies employees as soon as those positions open up and allows them to apply right from their email.

As an employer what are some of the key benefits?
We keep our pricing at the same rates as the classifieds but with the professionalism of a dedicated employment website. Some of the key benefits include: custom resources such as cloud collaborating on resumes, applicant rating system on a one-to-five star basis, and managing notes on every single candidate to keep track of where you are in the hiring process. As a small business owner myself, the last thing I want to do is look for sticky notes on every candidate I talked with. We made it simple to manage notes from one location; in the cloud you can access any candidate information. You can access this information from your mobile device, your tablet, or your laptop.
What is the story behind the name LocalWork.com?
It is all about local job creation. There are a lot of local jobs, so we wanted to create a method where people can find work in any local area.
What is your vision for this site?
Our goal is to create 10,000 jobs in 2012. We want to create the movement of local job creation here in Arizona.
If I am a small business and I have five openings, why is your site the best site to chose?
Obviously five different positions can add a lot of confusion and we have it systematically laid out so you can follow the resumes per job opening. To make it simple, you can make notes on specific resumes you are receiving. We make it easier to manage your hiring system and most importantly, save you time.
Will you be targeting any niche markets like boomers, or diversities such as the Latino community?
Our focus right now is to help anyone looking for work. One primary focus is college students who are having a very hard time finding work. ASU graduates thousands of students a year and a very small percentage of them are actually finding jobs right out of college. We want to help that.
How are you going to filter out things like these home-based business job listings? Will you ban them?
If they are truly offering employment opportunities, we won't. However, if we get high-level suspicion or spam notifications, we will manually audit and review each job posting. If any posting appears predatory in nature it will be flagged for removal. We have filters and a team monitoring the website at all times to ensure the integrity stays as high as possible.